The two-time Georgia Tech graduate has been a faculty member since 2006.
Thursday, 05 January 2023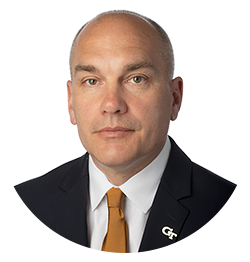 Mark Costello
Mark Costello will step down as chair of Georgia Tech's Daniel Guggenheim School of Aerospace Engineering in August after completing a five-year term.  
Under Costello's leadership, the AE School rose to No. 1 among undergraduate aerospace engineering programs in the 2023 U.S. News & World Report national rankings. Its graduate program is currently ranked No. 4.  
"Mark's tenure as chair was historic, as the AE School is No. 1 in the nation for the first time," said Raheem Beyah, dean of the College of the Engineering and Southern Company Chair. "The past five years have been marked by tremendous research success — from Georgia Tech-built satellites launching to space, to advances in rotorcraft technology and digital twins, and much more. Meanwhile, Mark has made significant strides to diversify the School's faculty. I'm grateful for his collaboration and leadership, which have put the AE School on a path toward even greater achievements in the years to come."  
As chair since 2018, Costello helped grow the School's enrollment by more than 22%. With nearly 1,900 undergraduate and graduate students, the program is among the nation's largest. At the same time, Costello worked to expand access and diversity, including increasing the number of AE women faculty fivefold.  
The School also grew its research expenditures during the past five years from $30 million to $40 million. 
"Serving as chair has been the highlight of my academic career due in large part to the collaborative spirit amongst our AE students, faculty, and staff. It has been an honor to lead the School during this period of growth and excellence," Costello said. "It is unbelievable how quickly these five years have passed, and I'm incredibly proud of all that we have accomplished together." 
Costello is the William R.T. Oakes Professor and has a joint appointment in the George W. Woodruff School of Mechanical Engineering. He earned both his master's and Ph.D. in aerospace engineering at Georgia Tech and returned to the faculty in 2006. In 2017 and 2018, he also served as a program manager in the Defense Advanced Research Projects Agency's (DARPA) Tactical Technology Office.  
Costello's research focuses on dynamic modeling, control system engineering, and design. His research team is noted for creating new aerospace technologies that include robotic landing gear for rotorcraft, bleed air control of parafoils, and direct impact control of smart projectiles. Their research led to the formation of two start-up companies: Earthly Dynamics and Persimia.  
In August, Costello will take a temporary leave of absence from Georgia Tech to focus on Earthly Dynamics, which creates hardware and software technologies that support automation functions for the aerospace community. The company develops next generation smart parachutes and parafoils for use in guided cargo airdrop, aircraft recovery, and spacecraft sample-return missions. They also have pioneered in-canopy bleed air actuation and sensing paired with parafoil adaptive control that has enabled new levels of flight performance and landing accuracy. 
Details about the search for the next permanent chair of the School will be announced soon.